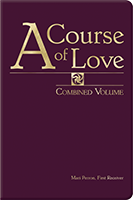 Take Heart Publications is the publisher of A Course of Love, received by Mari Perron. For more information, please visit the website acourseoflove.com.
Take Heart Publications is also the publisher of an ebook edition of The Grace Trilogy by Mari Perron, Julieanne Carver, and Mary Kathryn Love. For more information about The Grace Trilogy, click here.
Take Heart Publications is a non-profit corporation dedicated to the publication and promotion of tools for awakening to a higher potential.
We cooperate with Dawn Publications, our sister organization and publisher of books that look to nature for inspiration as well as education. Some of these inspiring books include: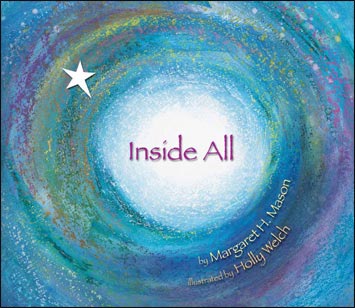 Inside All – This is a comforting bedtime book that will reassure little ones that they—every one of them—are connected to the world both physically and mystically. They belong, and are part of something meaningful. The story is a simple nesting-doll-like journey. With a few well-chosen words and rich suggestive illustrations, the reader is taken from the outer edges of the universe to a planet, a village, a home, a room, into the heart of a warm, sleepy child, and finally to an awareness of love that somehow encompasses it all.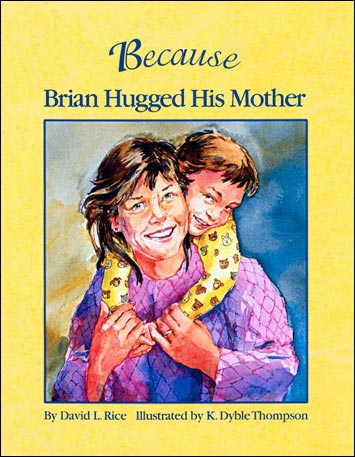 Because Brian Hugged His Mother – Kindness IS contagious, and this story shows how even young Brian can start a chain reaction that brings a bit of joy to people he doesn't even know. It all starts out one morning when Brian wakes up and gives his mother a hug. Brian's hug acts like an object in motion, touching many people (and even animals), often in a humorous way. If you like to hug and share your joy with children, this book is for you—and for them.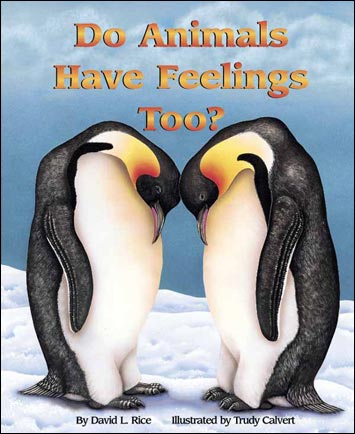 Do Animals Have Feelings Too? – This collection of true stories of animal behavior is not only captivating and thought-provoking, but also a terrific way for teachers and parents to have children to consider feelings—whether animal or human. A young antelope was being dragged into a river by a crocodile. A nearby hippopotamus saw what was happening and charged the croc, which released the antelope. The hippo gently pulled the antelope up the riverbank, comforting and protecting it until it died. Was this compassion?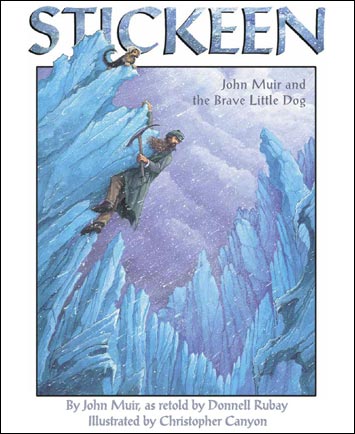 Stickeen: John Muir and the Brave Little Dog – This true tale actually happened in Alaska to the famous naturalist, John Muir, and it became "the most memorable of all my wild days." One day, Muir set out to explore a huge glacier during a blizzard. Stickeen—an aloof little dog belonging to a fellow traveler—insisted on going along. They become stranded on the glacier. The only way out was over a precarious ice bridge, dangerous for man and almost impossible for a dog. When, amazingly, they both escape, Stickeen's aloofness is replaced by rapturous adoration for Muir. The author skillfully weaves Muir's own words, the illustrations are extraordinary, and the result is a classic.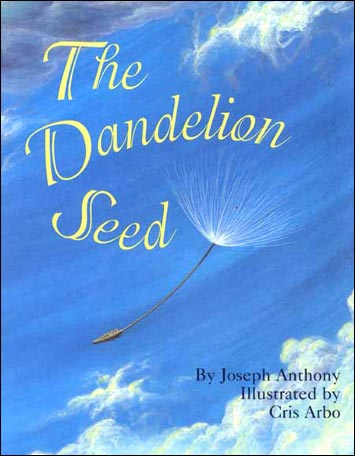 The Dandelion Seed – A dandelion can teach much about seeds and seasons and cycles—and the big world that a wind-blown seed can travel—but it also can make us appreciate the challenges it must overcome. This gorgeous book is at once simple and profound. You may be surprised and pleased by the questions and observations of your children after reading this together.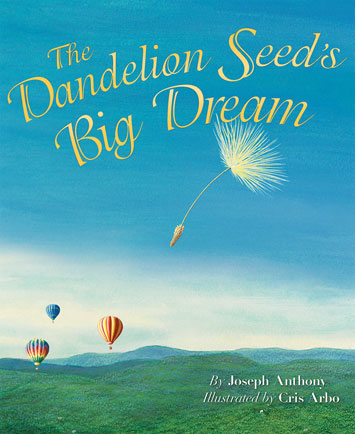 The Dandelion Seed's Big Dream – Consider the dandelion. It lives life fully, flies with beauty, survives storms, endures darkness, never gives up. It is one of nature's greatest success stories. Like dandelions, each of us can make the world a brighter place. The trick is to bloom right where we are. Back matter includes information and activities about dandelions and weeds, seed dispersal, and the theme of courage, patience, and perseverance.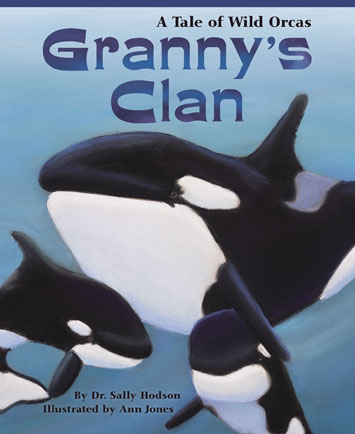 Granny's Clan – Just imagine—you are a young orca whale. Your special friends are two cousins and your 100 year-old great grandmother, the clan leader. You learn to play with them, face danger with them, hunt with them—and even go people-watching with them! Based on actual orca, or killer whale, research, this book combines science with the real story of how family, friendship, and a grandmother's love are helping this magnificent but endangered orca clan to survive.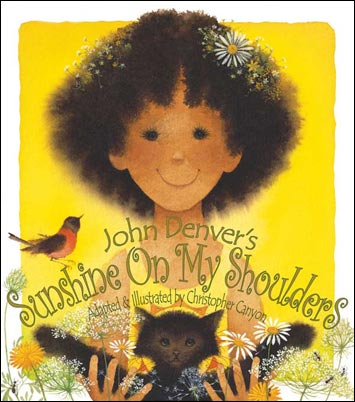 Sunshine On My Shoulders – This exuberant adaptation of John Denver's famous song is "sure to make you smile," even on a dark and cuddly evening with your child. It helps if you can sing—the musical score is included—or just pop in the CD that comes with the hardback edition of the book. Sunshine On My Shoulders celebrates friendship, sunshine and the simple joy of being together. A charming little girl and her father (who kind of looks like John Denver) enjoy a day together in the sun with a guitar, butterflies, a cat, a mouse, and lots of other critters.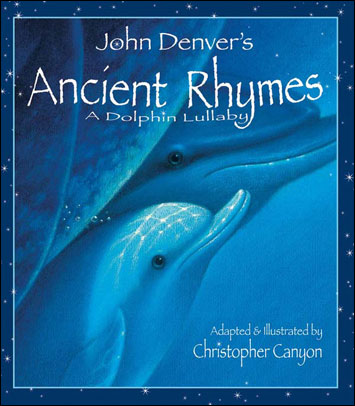 Ancient Rhymes: A Dolphin Lullaby – Here's a rare, gentle way to share a birth with a child. John Denver's hauntingly beautiful song "Ancient Rhymes" is about the birth of a baby dolphin, and Christopher Canyon's luminous illustrations—including a baby dolphin curled up with an umbilical cord and also a live birth—convey a sense of mystery, awe, and anticipation of things to come. The baby soon tastes the air and learns of dolphin ways, much the same way as a human baby does. There's something magical and indescribable about it—a timeless and endearing lullaby.