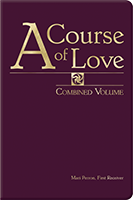 Take Heart Publications is the publisher of A Course of Love, received by Mari Perron. For more information, please visit the website acourseoflove.com.
Take Heart Publications is also the publisher of an ebook edition of The Grace Trilogy by Mari Perron, Julieanne Carver, and Mary Kathryn Love. For more information about The Grace Trilogy, click here.
Take Heart Publications is a non-profit corporation dedicated to the publication and promotion of A Course of Love and related material.
We cooperate with Dawn Publications, our sister organization and publisher of children's books that look to nature for inspiration as well as education.